StorKies
a lively place for toddlers
About StorKies
StorKies is open for all children (and their Mum's) from the ages of 0-4 years. Its purpose is to encourage literacy skills at a young age and enhance a child's social skills through play.
Carers are on hand to read and play with the children on an individual basis.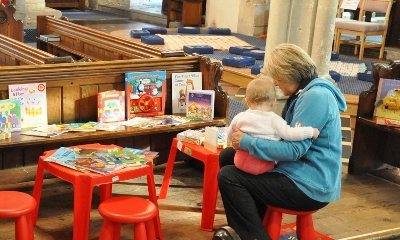 When and Where
StorKies is held every Tuesday morning from 9.15-11.15am in St. John's Church, Chipping Sodbury. The team of volunteers is under the leadership of Yvonne Brae. Sarah Ledger has been responsible for preparing the curriculum.
Mothers bring their children and join in the social interaction. After refreshments there is a story-telling time at which familiar Bible stories are retold in an engaging manner.
The program is proving to be hugely popular and admission is limited. A special First Aid evening was convened in June 2015 for mums and carers – serious fun! A second course on Paediatric Techniques was also conducted on November 24 2016. See Scrapbook.
The programme was given a boost by a donation from the Rotary Club to help finance the on-going developments and acquisition of new materials and playthings.
Contact Us to obtain more details.