The Sayings of Jesus
timeless wisdom, insight and truth
Why is it that...?
… we don't spend more time studying the words of Jesus? We read all sorts of other stuff but relatively speaking the words of Jesus are often overlooked. And yet they should be the most important, the most precious, the most moving and enervating of all – simply because they come from Jesus Himself.
Take time to meditate on some of His great sayings… and judge for yourself how relevant they are to us today…
Just a sampling of what He said...
I have said these things to you, that in me you may have peace. In the world you will have tribulation. But take heart; I have overcome the world. (John  16:33)
Come to me all you who are weary and burdened and I will give you rest (Matthew 11:28 )
The thief comes only to steal and kill and destroy; I have come that they might have life, and have it to the full. (John 10:10)
The Spirit of the Lord is on me, because he has anointed me to preach good news to the poor. He has sent me to proclaim freedom for the prisoners and recovery of sight for the blind, to release the oppressed, to proclaim the year of the Lord's favour. (Luke 4:18, 19)
Seek first his kingdom and his righteousness and all these things will be given to you as well. (Matthew 6:33)
Not everyone who says to me 'Lord, Lord,' will enter the kingdom of heaven, but only he who does the will of my Father who is in heaven. (Matthew 7:21)
Do not store up for yourselves treasures on earth, where moth and rust destroy , and where thieves break in and steal. But store up for yourselves treasures in heaven, where moth and rust do not destroy, and where thieves do not break in and steal. For where your treasure is, there your heart will be also. (Matthew 6:19-21)
To be continued…
Scripture taken from the HOLY BIBLE, NEW INTERNATIONAL VERSION. Copyright (c) 1973, 1978, 1984 International Bible Society. Used by permission of Zondervan Bible Publishers.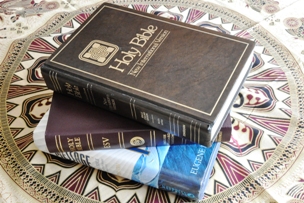 Resources
There are many resources available to us today that can help us mediate on Jesus' words… Here are a few helpful links…