what a beautiful world...
reflecting a Creator we can know...
welcome to Sodbury Vale Churches...
trusting God for our future
Time to start thinking about the 2017 Crib Festival… Our Theme this year is "Jesus – Prince of Peace". Expect to see a lot of doves hanging around!    See details…. 
The Next Big Thing
The Advent season will soon be upon us. For us this means the Nativity Crib Festival which runs for one week at the end of November.
How can you participate? Not just by coming and bringing your family – but by loaning a crib scene that you may have at home.
Here is the programme of events – and here are details on how to loan a crib. Visit the Crib Festival page for further details..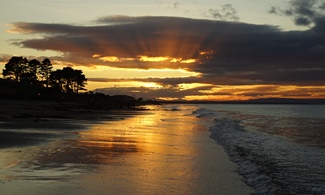 Our SVB organist Jonathan Crow has been inspired to write his own Requiem – Thousand Colours of Sunset.
Read more
Two of the ten movements will be sung by the Yate Choral Society at their Charity Concert on October 21. Premiere of Requiem will be performed on March 10 2018 at St Mary's Church, Wotton-under-Edge. It will be performed by a new choir, the Arcus Singers, conducted by Geoff Wickham.
The latest Outlook magazine - Oct-Nov 2017
Our Churches