what a beautiful world...
reflecting a Creator we can know...
welcome to Sodbury Vale Churches...
trusting God for our future
Welcome to Sodbury Vale Churches
alive and active
STOP PRESS – StorKies
Please note that StorKies will not be in St. John's Church, Chipping Sodbury due to heating problems.
From Tuesday 16th January we will be meeting in the church hall at St. Lawrence's Church, 71 Broad Street, Chipping Sodbury BS37 6AD until further notice. We apologise for any inconvenience.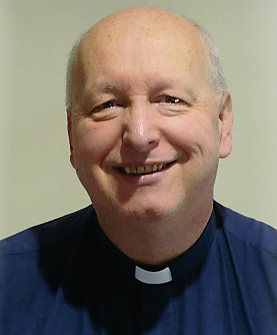 Happy New Year
David's New Year message challenged us as the people of God to live out our faith. As a church we seek to demonstrate three things: Unity, Forgiveness and a Welcome to all.
By God's grace we commit ourselves to these things in our communities as well as in our own fellowship.
People are always moving into the area and are looking for a new church home. We warmly welcome you and invite you to contact us if you need help and cannot find what you need on these pages.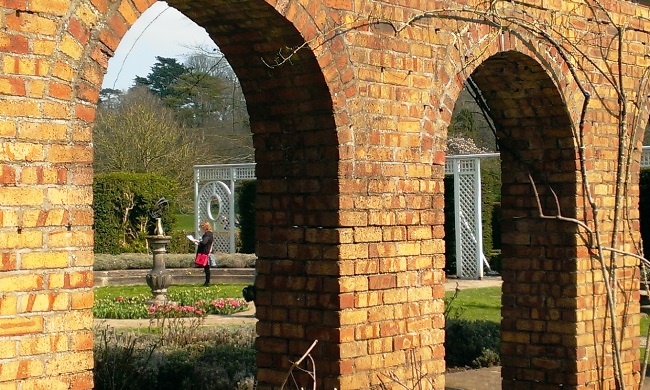 Here is a good place to get inspiration – the LICC website. The London Institute for Contemporary Christianity was started by John R. W. Stott. Connecting with Culture and Word for the Week are just two series that are running currently. They both help us relate biblical teaching to everyday life. A  great place for thinking Christians – and for those who are curious…! Try it out!
Jesus said "I came so that they can have real and eternal life, more and better life than they ever dreamed of."
If that is true why don't more people take him seriously? Perhaps people fear they are risking too much if they were to become followers of Jesus…
Read more of Jesus' sayings…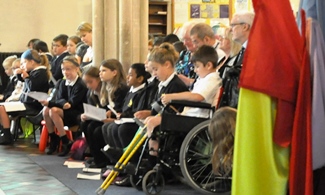 StorKies' Christmas Posada
A few days before Christmas StorKies put on a very special Christmas event – the Teeny Tiny Posada. They re-enacted the Christmas story and the journey to Bethlehem in the streets of Chipping Sodbury. They stopped in Hatherall's Yard and then moved on to the Beaufort Inn where the Landlord served as Innkeeper…
more
Thirty parents and carers and their children took part. Rector David Bowers read the Bible story to them as they travelled. The route took them through Hatherall's Yard where they bought bread and supplies, before continuing past the Tourist Information on their way to the Beaufort inn. Here Landlord Mike told them he had 'no room', when the children knocked on his door but he finally recanted and said he had a stable at the back (a function room) and they were able to settle in there for the birth of baby Jesus.
Organiser Sarah Ledger described it as 'absolutely brilliant' and describes it as a real act of community generosity.
StorKies re-opens on Tuesday Jan 2 at 9.15am (til 11.15am) at St John's Church on Wickwar Road, Chipping Sodbury.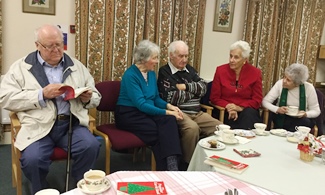 Tea and Chat Christmas Special
Tea and Chat had its Christmas special this week – complete with carols. It spread a lot of good cheer among the elderly…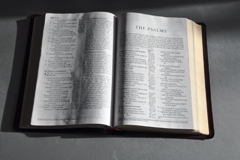 Need some help in knowing how to get started with reading this amazing book?
Click here for special help from the Bible Society.
The latest Outlook magazine - Dec 2017- Jan 2018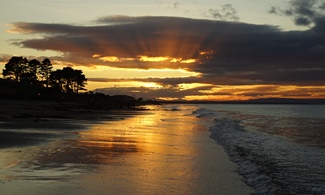 Our SVB organist Jonathan Crow has been inspired to write his own Requiem – Thousand Colours of Sunset.
Watch video of 5th movement – Sanctus and Hosanna – which was sung by Yate Choral Society at their Charity Concert on October 21.
Click here to learn more
Premiere of Requiem will be performed on March 10 2018 at St Mary's Church, Wotton-under-Edge. It will be performed by a new choir, the Arcus Singers, conducted by Geoff Wickham.
Our Churches